TiboRex® Absolute - A new age fire suppression agent.
Manufacturer / Brand owner: protecfire Consulting
Country of manufacture: Germany
Description
TiboRex Absolute is a ready-to-use liquid special extinguishing agent without the addition of fluorochemicals for highly effective extinguishing of solid fires (class A fire), liquids, non-polar hydrocarbons (class B fire) and edible fats and oils. The special formulation, whose main components are also used as food additives, ensures exceptional extinguishing performance with unprecedented environmental protection.
Applications
TiboRex Absolute is used undiluted and has been specially formulated for use in extinguishing systems and components developed by protecfire GmbH, which have been developed, tested and approved for specific purposes.
Certifications
TiboRex Absolute is tested and approved by MPA Dresden GmbH according to the requirements of DIN EN 1568 and DIN EN 3.
Storage
TiboRex Absolute should be stored in unopened and undamaged original packaging.
In this state, depending on the application and the storage conditions, the extinguishing agent may storage conditions, the extinguishing agent can be stored for up to 10 years.

Environment
When used as directed, TiboRex Absolute is physiologically safe and readily biodegradable.
According to Annex 4 VwVwS, TiboRex Absolute is classified in water hazard class (WGK) 1.

Special instructions
TiboRex Absolute is used undiluted. When used as intended, no health effects are expected.
Extinguishing exercises and tests should be coordinated with local authorities. In case of contact with skin and eyes, rinse with clean water.
Appearance: yellow-green transparent liquid
Density at 20ºC: 1.275 ± 0.015 g / mL
pH-value: 8.5 ± 0.5
Recommended operating temperature range: -30ºC to +65ºC
Maximum operating temperature range: -50ºC to +80ºC
60 Litres Drum
220 Litres Drum
1000 Litres Tank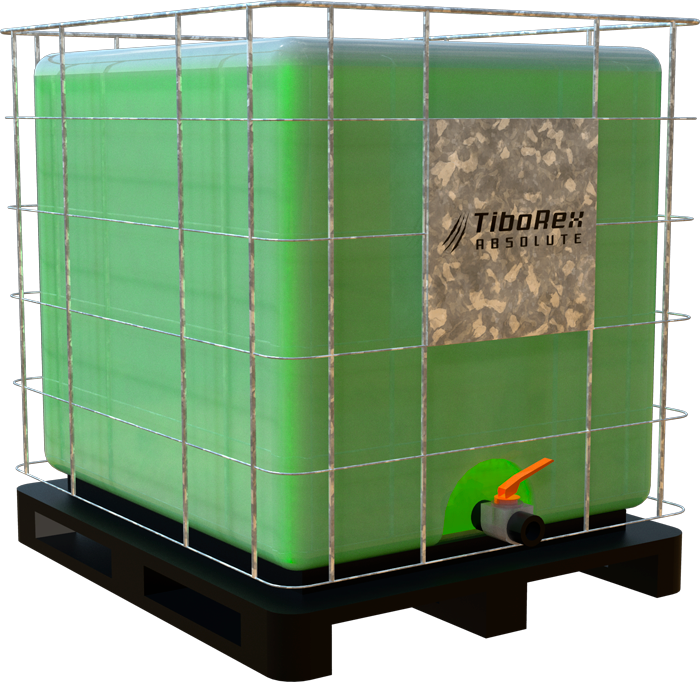 Special Liquid extinguishing agent
Cooling Effect
Fine Spray Droplets that penetrate fire very fast.
TiboRex Absolute produce very fine droplets,smaller than100μm.
Oxygen Suffocation by evaporation
Due to the required enthalpy of evaporationof 2.26 MJ/kg (equivalent to 1 litre of water)energy is extracted from the burning object ina minimum of time and it cools down substantially.
Ultra Cooling through Sublimation
Layering with solid crystals that convert to gasTiboRex Absolute's main components form crystalline structures.With the still existing combustion temperature, these solid structureschange from the crystalline phase to a gaseous phase. The enormousenthalpy of evaporation (heat) required for this amounts to 7.23 MJ/kg.
Extinguishing agents comparison